Prairie Wynds Rockin Ashni HIC, CGN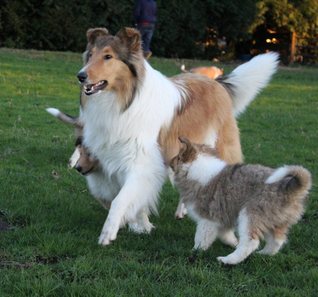 Prairie Wynd Rockin Ashni HIC, CGN
Ashni's last litter was in 2021… she is now OFFICIALLY RETIRED and will live out her entire life here on the home farm. She is the protector and matriarch of the farm, the always watchful eye, the dominant female who would I'm sure would give her all to protect her loved ones. Just love her so much. PLUS…she's a MOVIE STAR!
Ashni is my precious soul out of Ebony Pearl and Cdn Champion Celticmoons Classic Rock RN AGNS. She was successfully shown only once and has 3 points towards her championship.  Her sire 'Drummer' has contributed to her beautiful head, ear placement, solid frame and correct hind end.
Her dam, Ebony Pearl, passed on her SAGACITY!! Wisdom and insightfulness…these are the qualities I most admire and I love seeing them pass on to the puppies! A perfect combination with the current sire, Atlas Aurelius', with his handsome show quality looks. Ashni's puppies are outstanding! Just check out the testimonials and reviews.
Celticmoon's Classic Rock Sire of Ashni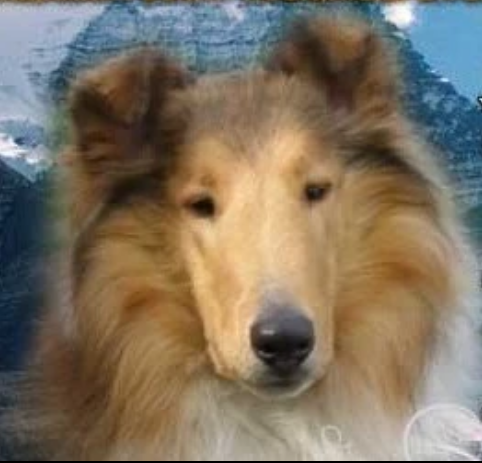 HIC, Am/Can RN, FDCh (Am. Pointed), (Hips OFA Excellent, Elbows OFA Normal, Heart OFA Normal, MDR1 N/m, PRA/OFA Normal, DM Normal, DM Normal, Full Dentition, CHIC #85444
 Ashni's Grandsire topside –
Ch. Bo Dandys Rock Solid
"Levi is an absolutely beautiful boy. He has the most wonderful, loving personality. He's curious, advneturous, amusing, sensitive & loyal. My life is so much bettere with him in it!"
Sincerely, Gabriela Doherty
Ebony Pearl the Dam of Ashni
HIC (Herding Instinct Certificate), CGN (Canine Good Neighbour), STJATD (St. John's Ambulance Therapy Dog Program)
Ebony & St John's Ambulance Therapy Dog Program
Ebony Pearl and the St. John's Ambulance Therapy Dog Program
"A therapy dog is a dog that is trained to provide affection, comfort and support to people, often in settings such as hospitals, retirement homes, nursing homes, schools, libraries, hospices, or disaster areas. In contrast to assistance dogs, which are trained to assist specific patients with their day-to-day physical needs, therapy dogs are trained to interact with all kinds of people, not just their handlers.
The use of dogs for therapeutic reasons has been demonstrated by many people over the last few centuries, including Florence Nightingale, Sigmund Freud, and Elaine Smith." Quote from Wikipedia
Ebony was an amazing Therapy Dog! She passed the rigorous and demanding St. John's Ambulance Therapy Dog assessment with flying colors! Therapy dogs have to remain calm, unafraid and biddable in dangerous and threatening situations. They are exposed to very loud noises, explosions and mayhem that could occur unexpectedly, the unpredictable behaviour of the mentally challenged, noisy crowds and the congestion with strangers in elevators to name a few.
She and I had weekly visits at the Meno Care home in Abbotsford, BC, where she was loved and her visits looked forward to by their many patients. We also travelled to Saskatchewan and Manitoba where she visited several care homes and hospitals and brought comfort and enjoyment. Dogs seem to 'know just who needs them'…it's that sagacity I've been talking about!
Prairie Wynd's Rockin Ashni