So Many Testimonials We are Grateful For!
"Skye went through Puppy/beginner class, and was often used to demonstrate to the others. Now he is in Intermediate. I think he loves learning anything!
Definitely the most intelligent dog we've ever had. And what a social butterfly! He loves meeting other dogs, is very good with small puppies and children."
Rosemary
"I have had many dogs in my life time but Levi is very intelligent and surpasses all other breeds I've had"
"We just wanted to let you know how much we are enjoying Willow.  She has such a sweet nature.  Willow has doubled in size in the 2 months we have had her!
She is also a quick learner! We have Amelia from "Wag the Dog" training coming to the house training us and Willow is learning all sorts of commands and tricks. She loves going for walks and is curious about everything.  Thanks for breeding such wonderful dogs! "

Joe and Linda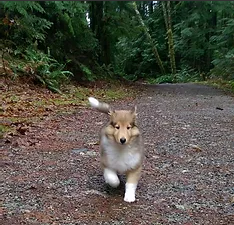 "Praire Wynd's Nova is a real sweetheart. She was potty trained within the first three days and already 'sits'. Today marks the end of our first week with her and we couldn't be happier!"
Hi Shirley,
"I do not know if you remember us but everyday I think about picking up our tricolour on Jan. The third 1918. He is just the most amazing dog ever.He is the canine George Clooney of the walking trails.I am so protective of him because he is so handsome.
He loves dogs small or gigantic.Not an aggressive bone in his brain. Thank you so much for raising such a marvellous dog. He is amazing!"
Bob & Bonnie

We are having so much fun with Cassie (Snow Bear). She's become an integral part of our family! She's wonderful on the trail either hiking or biking and comes with us everywhere, including camping this weekend. She is gentle and kind and a great companion to our daughter. She's very obedient, and a quick learner, she already knows sit, stay, down, and stay. We love her!"
"Poppy has learned SO much in the short week we have had her and we are proud puppy parents. She let's us know when she needs to go outside and knows sit, down, stay, shake, spin, and roll over! She has been excellent with all of the people she has met so far, is an absolute sweetheart, and we love her so much!"
Prairie Wynd Collies Reviews!